Auto Repair
Locally Owned | 22 Years of Experience | FREE Estimates
Free Estimate
Exxon Auto Service Center
|
7898 Ridge Rd,
Hanover,
MD
21076
|
Keeping You And Your Vehicle Safe
Problems with your engine, transmission, or suspension put you in danger every time you're out on the road. The ASE-certified mechanics at Exxon Auto Service Center can take almost any repair job, including engine issues, emission problems, and more. Your wellbeing is our number one priority.

Our team uses only the latest technology to handle your repair jobs. We start each job by using state-of-the-art diagnostic tools to look inside your vehicle and identify the problem. Then we follow the latest industry techniques to restore your car to working condition. Contact us for a free 15-minute estimate!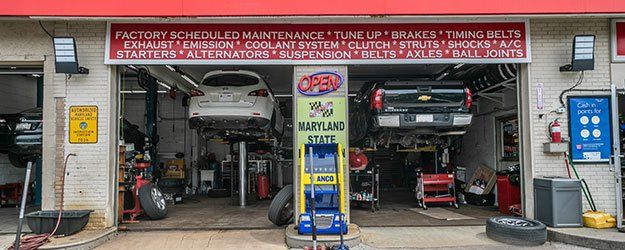 Our Mechanics Can Handle:
Power Steering Systems
Exhaust Systems
Suspensions
Transmissions
Ball Joints
Car Rods
CV Joints
Wheel Bearings
Shocks
And More!
Thank you for contacting Exxon Auto Service Center. Someone will be in touch with you as soon as possible.
There was an error submitting the form. Please try again.