Exxon Auto Service Center
Auto Service Shop in Hanover, MD
Locally Owned | 22 Years of Experience | FREE Estimates
Free Estimate
Exxon Auto Service Center
|
7898 Ridge Rd,
Hanover,
MD
21076
|
Contact Us For Excellent Emission Repair Services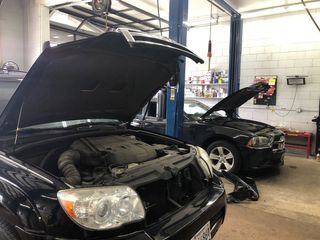 STATE INSPECTIONS
Coming up on your state inspection? Our team will make sure your car is compliant with all state and safety regulations.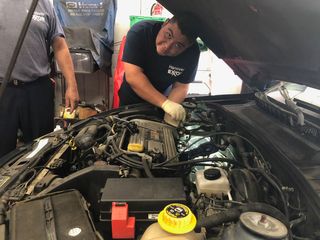 AUTO MAINTENANCE
Our team can catch problems with your vehicle with auto maintenance services. We'll keep you safe on the road.
AUTO REPAIR
Exxon Auto Service Center's ASE-certified mechanics are here for all your auto repair needs, whether you need repairs on suspensions, car rods, ball joints, or more.
Auto Service Shop in Hanover, MD
A Premier Auto Service Shop
Has your check engine light turned on? Is your state inspection coming up? As a premier choice for auto services, Exxon Auto Service Center can assist with all your needs. Our ASE-certified team offers a wide range of repairs and maintenance jobs. We'll keep you on the road with quality auto repair services and a caring team. Reach out to our representatives today for a free 15-minute estimate!
Exxon Auto Service Center's Mechanics Can Help With:
Check Engine Lights
Suspensions
State Inspections
Oil Changes
Transmissions
Emissions Checks
Batteries
Tire Rotations
Flat Tire Repair
And More!
Customers from all over the Hanover community trust Exxon Auto Service Center with their auto repair and state inspection needs. We've earned ourselves a long list of happy customers through hard work and dedication. So when you come into our auto service shop, rest assured that our services will be fast, thorough, and competitively priced. We even work with your insurance company to help reduce the cost of your repairs.
Free Estimate
Contact Us
This placeholder text is designed to show you where text will go on your site, and how it will flow in and around other elements. As part of the development cycle, our team of copywriters and editors will be crafting brand new original copy tailored to your business and marketing strategy.
Free Estimate
Thank you for contacting Exxon Auto Service Center. Someone will be in touch with you as soon as possible.
There was an error submitting the form. Please try again.