Tires
Locally Owned | 22 Years of Experience | FREE Estimates
Free Estimate
Exxon Auto Service Center
|
7898 Ridge Rd,
Hanover,
MD
21076
|
Your One-Stop Shop For Tire Services
Worried about your tire pressure or need to rotate your tires? Exxon Auto Service Center offers comprehensive tire services that address those needs and more. With an 18 month/18,000-mile warranty on parts and labor, you can rest assured that we'll provide quality work.

Exxon Auto Service Center's specialty is great customer service and comprehensive auto care. Every mechanic at our shop cares about getting you back on the road, which is why we're always exceeding customer expectations in our tire services. Contact us today for a free 15-minute estimate on your tire needs.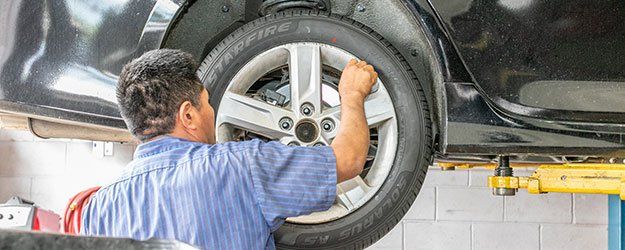 We Offer The Following Tire Services:
Flat Tire Repair
Tire Rotations
Tire Pressure Monitoring
New And Used Tires
Tire Mount And Balance
And More!
Thank you for contacting Exxon Auto Service Center. Someone will be in touch with you as soon as possible.
There was an error submitting the form. Please try again.